COMPANY UPDATE — May 13, 2019
As we come up for air after a particularly busy couple of months, we thought we'd share with you some of the things we've been working on lately to see if they might spark ideas for you as you move forward with your own leadership development initiatives.
As you already know, Entelechy has customized leadership development experiences for hundreds of companies developing hundreds of thousands of leaders in a variety of industries across the world for approaching three decades. In 2018, we added clients from a variety of industries such as energy, medical devices and research, cloud-based telephony, and construction. With this increasing diversity of clients, the one thing we've reaffirmed is that the content featured in our core leadership development programs — Unleash Your Leadership Potential and Leading Leaders — transcends industries and leadership levels.
We've also expanded our core service offerings to include Everything DiSC® and Entelechy's customizable online 180° and 360° leadership assessments. Everything DiSC is the most widely-recognized personality/social styles assessment in the world and helps leaders and employees work more effectively with each other. Our customizable online 180° and 360° feedback assessments help leaders identify their leadership strengths and areas for development.
We've fine-tuned our flagship leadership development program, Unleash Your Leadership Potential, and have brought our powerful models and lessons to life on social learning platforms through our expanded partnership with NovoEd; the leadership experiences we've created are now enjoyed by over 1,000 leaders (and we've learned some very powerful lessons that we will share with you in a future posting). We've officially added Leading Leaders to our leadership development portfolio to address the unique needs of senior leaders; as with all Entelechy programs, Leading Leaders is fully customizable to your organization's needs or is ready to make an immediate impact right off the shelf.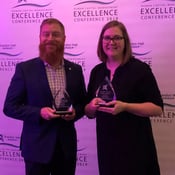 The icing on the cake was taking home GOLD at the Brandon Hall HCM Excellence Awards for the work we did with Republic Services in creating their cornerstone leadership development program, Leadership Fundamentals. The program trains leaders to build productive, meaningful relationships with employees, to lead effectively, and to develop talent and bench strength through deliberate coaching and performance management. At right is our Senior Marketing Director, Katie Carbone, accepting the award with our client, Andy Martin, Senior Manager, Organizational Development at Republic Services at the award ceremony last month. To learn more about our award-winning program, please read the case study.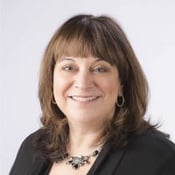 With all of that growth comes new opportunity for our team members. We're thrilled to announce that Donna Iacopucci has been promoted to Chief Operating Officer. Clients who have worked with Donna will agree that she is perfectly suited for this role as she has been responsible for the work — and the relationships — that make Entelechy the company it is today. She thoughtfully works with our clients to establish program goals and objectives that will drive true organizational change. She expertly establishes and manages a team of Entelechy instructional designers and master trainers who flawlessly execute our client's vision. And, she does this time and time again. Donna is integral to Entelechy's success and we're thrilled to announce her promotion.